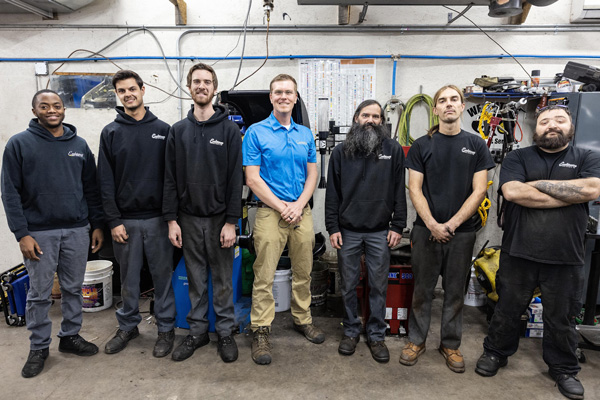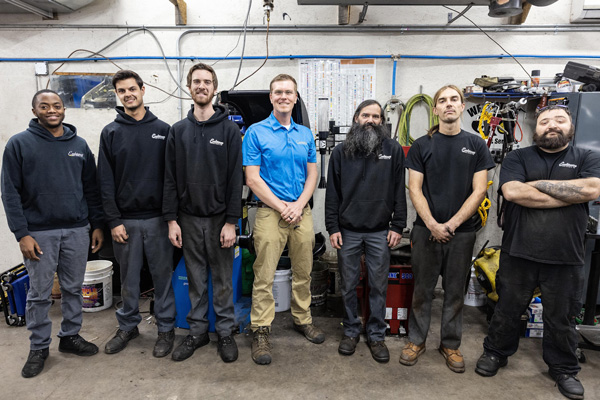 About Endurance Auto Repair and Tire in Lynchburg, VA
Stephen grew up near Grand Rapids, MI where he watched his maternal grandfather, Arthur Ronda Jr., successfully expand a chain of tire stores called "Ronda Tire". Ronda Tire is a third generation tire company, which began in 1918 by Arthur Ronda Sr.. His two sons Arthur Jr. & Kenneth Ronda joined the business in the 1940's and soon began expanding the company while adding a retread shop in the 1950's. The City of Grand Rapids went through an urban renewal in 1960 and the original buildings were torn down, forcing Ronda Tire Inc. to relocate to its present location on Market Street in Grand Rapids. At the present time Ronda Tire is one of the oldest independent tire dealers in the United States and is still family owned. Ronda Tire has grown from one location to four locations. Before retiring and leaving his business to his children, Grandpa Ronda would allow Stephen to accompany him on trips around the town to check on his customers. He demonstrated to Stephen the importance of valuing customers and being genuinely concerned with giving them the best possible service he could. Stephen is now the 4th generation of Ronda's in the Auto Service industry. He desires to follow in the footsteps of his grandfather, who taught him character, integrity, hard work and commitment, both at home and on the job.
Stephen moved to Lynchburg, VA to pursue his degree in business finance at Liberty University where he graduated in the Spring of 2009. He is also a trained mechanic and has been working in the business of auto repair since 2000. In 2009, he married his wife Sarah of Madison Heights, VA. She taught high school science for several years until the opening of the shop where she joined Steve full time. She worked at the shop until 2020 when she transitioned to work from home in order to spend time raising their two boys, Jocko and Conrad.
Why "Endurance"? We chose this name for several reasons. Sarah is a marathon runner and loves endurance racing. Steve is always supportive of this either by joining her on foot, on bike or cheering at the finish line. Steve is an avid biker and enjoys both mountain biking and road biking. They also have a dog named Asics. He is a Weimaraner and in his younger years would join Sarah and Steve on their runs. In 1 Corinthians 9:24 the Bible talks about always running the race to win the prize. We desire to be a step above the rest by putting sincere effort into all that we do. Character, Integrity and being different than the "stereotypical" auto repair facility is very important to us. Finally, it really is important that your car can go the distance that it should be able to go! We plan to help make that happen.
We pray that Endurance Auto will be a blessing to all of the customers that we serve.
Commitment to Customer Satisfaction
At Endurance Auto Repair and Tire, our number-one goal is complete customer satisfaction. Every day, with every customer, we focus on providing high-quality auto repairs coupled with top-notch service. With countless five-star reviews, we are proud of our reputation as one of the Lynchburg area's most trustworthy auto repair shops.
A True Alternative to the Dealer
Looking for an affordable alternative to the high prices at your local dealership? Endurance Auto Repair and Tire can help. Supported by a team of ASE-Certified technicians who receive ongoing training in automotive technology and auto repair services, we can offer you dealership-quality knowledge and experience without dealership prices. If you're in Lynchburg, or surrounding areas like Madison Heights, Virginia, or Forest, Virginia, stop by and experience the Endurance Auto Repair and Tire difference.
Cutting-Edge Technology in Lynchburg to Keep You Moving
Our team stays current on the latest automotive technology, utilizing professional, hands-on experience working with many vehicle types. We use the most current diagnostic equipment available, allowing us to quickly uncover the problem and begin working on the solution. Combining cutting-edge technology with real-world experience, it's our mission to get your car back on the road in less time than it takes other shops to figure out what's wrong!
Contact Us We're Here to Help!
We invite you to give us a call at 434-426-6853 or to take a look around our website and learn more about what we do. Read the testimonials and reviews from some of our happy customers, or find out more information on our specialties. Call or email us to inquire about how we can help with your specific automobile concern. And if you're in the Lynchburg or Campbell County area, feel free to stop by the shop and say hello, even if you aren't currently in need of auto repair or maintenance services. We'd be delighted to introduce ourselves, show you around the facility, and answer any questions about our business and our services.